Many young people around the world dream of studying at a German university or college. In this blog article, you'll find out everything about "Study in Germany" – and what you need to be able to study at a German university or college.
Many young people around the world dream of studying at a German university or college. With good reason, because numerous German educational institutions have an excellent international reputation and open the doors to career aspirations. The comparatively low study costs and growing range of courses offered in English also make studying in Germany extremely attractive.
What do I need for my studies in Germany?
Many prospective students deal with the topic "Study in Germany" and find themselves confronted with a huge amount of information during their research. At first, this is not only frightening, but also creates uncertainty. There are concerns such as "Are so much stress and effort worth it – even before you start your studies? Is studying in Germany really the right thing for me?" Do you recognize yourself here? Then we can give you clear instructions at this point. With a good plan you can manage the application process and the necessary paperwork without any problems. In the following we have put together 6 steps that will make it much easier for you to organize your studies in Germany.
"Study in Germany" – 6 steps to your dream study place
The most important consideration should always be which career path you would like to take in the future. Remember: Your profession should not only bring you a good income, but should also be fun. Of course, you need the right qualifications for this. It's best to think about what you want to study a few months before the application phase begins. This will give you enough time to get an overview of the courses available in Germany and to choose a university that fits your plans perfectly.
Step 1: Familiarize yourself with the admission requirements.
Many degree programs at German universities and colleges have so-called admission requirements. This means that applicants must meet certain conditions in order to be admitted to a degree course. These can usually be found on the website of the corresponding educational institution – e.g. in the form of NC tables. Simply check whether there is a certain minimum grade average or waiting semester for the course of study of your choice. Some degree programs also require a special admission test.
Caution: Poor timing and missing documents are among the most common reasons why applications are rejected. In order to avoid this, you should inform yourself at an early stage about the admission requirements for your desired degree course and provide the demanded documents. Here you can find the admission restrictions of the XU.
Please note that it can sometimes take several weeks for the authorities to issue you with the required certificates. So find out in advance how long the respective waiting periods are before you apply for a study place.
Step 2: Secure the financing of your studies.
Although studying in Germany is much cheaper than in many other countries of the world, you can't get by without money here either. Make sure that you have sufficient financial resources at your hands to cover the costs for
your tuition fees
your accommodation
the use of public transport
your daily care
to be able to cover for you.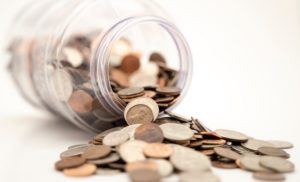 Attention! As an international student you have to prove your financial security in Germany. For this you need a so-called blocked account for students, on which at least 8,640 € must be deposited. This is the minimum amount that you need to present in order to apply for a student visa or residence permit for Germany. This way, the authorities can be sure that you can finance your studies in Germany yourself – because international students are usually not entitled to state support.
But consider that the amount of 8,640 € only covers your basic needs. How well you cope with this depends above all on where you want to study in Germany. In many cases the costs for accommodation, public transport etc. are much more expensive in West Germany than in East Germany.
We recommend that you set an annual budget of 10,000 to 12,000 euros. After all, you want to be able to enjoy doing something during your studies from time to time. It is best to inform yourself before you start your studies about rental prices and leisure activities in the respective city and the costs you would incur for them. Here you can find more information about financing your studies.
Step 3: Apply for a study place in Germany.
After you have carefully checked your documents and certificates and clarified the financing of your studies, you can apply for your dream study program. At most German colleges and universities, the application process is now online. The best way to find out what application modalities are available is directly on the website of the FH or university.
Consider that German colleges and universities sometimes receive many applications from foreign students. It takes time to check this. Apply as early as possible, i.e. directly at the beginning of the application phase, so that you still have enough time when you receive the confirmation of admission to take care of the necessary administrative formalities.
Step 4: Apply for your student visa / residence permit.
If you have received the confirmation of admission for your studies in Germany, you should immediately take care of a residence permit. Here are some details:
| | | |
| --- | --- | --- |
| EU countries | Non-EU countries | Non-EU countries |
| | Student Visa | Residence Permit |
| As a citizen of an EU member state, studying in Germany is quite simple for you. All you need in addition to the above-mentioned points is an equivalent of the German higher education entrance qualification (Abitur), e.g. the French Baccalauréat or the Austrian Matura. | As a citizen of a country outside the EU, you need a student visa. Here you can read which visa is suitable for you and what you need for the application. If you have all the necessary documents, you should go to a German consulate and apply for your visa in person. | Depending on your country of origin, a student visa may not be required. However, you will need to apply for a residence permit after arriving in Germany if you want to stay longer than 90 days to study in Germany. |
Also ensure that your health care in Germany is secure. So make clear in advance whether your health insurance is accepted in Germany or whether your home country has concluded a so-called social security agreement with Germany. Otherwise, you would have to insure yourself locally, which would result in additional costs of 80 to 160 € per month.
Step 5: Find a suitable accommodation.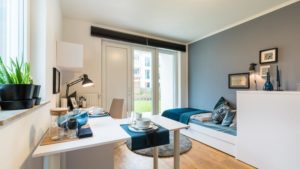 A study place at a German university or college does not automatically mean that a room in a student residence is reserved for you. In Germany it is common for you as a student to arrange your own accommodation. Ideally, you should find out during the application phase how many rooms are available in the dormitory and whether there are cheaper alternatives – e.g. renting an apartment or a shared flat. In some cities, private companies also offer so-called "temporary accommodation" – here you have a chance of temporary accommodation until you have found a suitable student room. Since cheap apartments are rare in many cities, you can sign an individual rental contract with such providers, which has proven to be a sensible temporary solution. XU offers their students apartments close to the campus.
Step 6: Sign up for the university or college.
With the confirmation of admission you are not yet enrolled at the university or college. First of all you have to pay your tuition fees. The amount of the tuition fee and the period in which you have to transfer it is usually stated in the confirmation of admission. Get a receipt – because you may need it as proof of payment. Now you can register at the office of your university or college and receive your student ID. You do need the following:
your valid identity card
a passport photo
if applicable, your student visa or residence permit
completed and signed application form
Admission confirmation from your FH or university
Proof of your eligibility for admission or your previous educational background
Proof of health insurance in Germany
Receipt for payment of tuition fees
You will need your student ID card in order to participate in your courses or to apply for a place in a student residence. In many cities it is also recognised as a public transport ticket. This depends on whether the corresponding ticket costs are already included in the tuition fees. Even if this is not the case, your student card will in most cases allow you to buy tickets at reduced prices. This also applies to various leisure activities such as cinemas, sports clubs, the zoo, amusement parks, etc.
Attention: In order to study regularly, you must pay your tuition fees on time. So be sure to comply with the "re-registration deadlines". Otherwise you will be exmatriculated and your student card will lose its validity.
Everything in mind? Then it's time to enjoy your studies in Germany!
As you can see, "Study in Germany" is not that complicated – if you know what to focus on. To ensure that your everyday life as a student in Germany goes as smoothly as possible, we recommend that you attend a language course before starting your studies and at least learn the basics of the German language or refresh your existing language skills – even if your lectures will be held in English. You will soon notice that it is much easier to organize your studies and to assert yourself outside the lecture hall if you can at least communicate fundamentally in German.
You haven't found the right college or university yet? How about studying digitization in Germany that will make you fit for your future career? Then have a look at our Bachelor's and Master's programs and apply for an innovative degree at XU Exponential University!