Standard period of study
6 semesters
Degree
Bachelor of Science (B. Sc.), 180 ECTS
Main areas of study
Marketing
Digital Marketing
Digital Communication
Business Administration
Innovation Management Skills
Specializations
Specializations during 5th and 6th Semester:
Digital Marketing Management
Social Media Marketing
Digital Marketing Communication (Search Engine Marketing, Mobile Marketing)
Digital Marketing Intelligence/Advanced Market Research
Digital Branding
Digital Customer Relationship Management
Digital Communication Design
Study Abroad
In the 4th semester of the full-time option
Practice
Intern domestically or internationally, practical projects, business games, labs, excursions
Language
English
Begin of studies
Beginning of October
Accreditation
Central Evaluation and Accreditation Agency (ZeVA)
A degree with a future for the marketers of the digital future
Is calling the tune of only one marketing instrument not enough for you? Would you rather conduct the entire marketing orchestra? Are you interested in how digital marketing and communication function? Do you want to know how to reach audiences and how advertising actually works? Are you wondering what makes influencers important opinion leaders?
Are you wondering why influencers are important opinion leaders? And why are followers worth so much today? Are you curious how brands are built and digital campaigns developed?
How are digital marketing strategies set up? What tools and channels do agencies use when launching new products and brands? How do you create emotional brand experiences? Do you want to know what social media marketing can do?
What does a story need to stay in people's heads? How are likes and views of digital marketing activities optimized? And by the way, what exactly is Search Engine Optimization (SEO) and Search Engine Advertising (SEA)? Are you thinking what mobile marketing is all about?
How can you develop a cross-media strategy? How can you combine different digital formats and apps into one big picture? Not only does our Digital Marketing and Social Media bachelor's program support you with these questions but it also gives you the tools and skills to unravel the world with your creative ideas
remove me Want to study the Bachelor in Digital Marketing and Social Media at XU Exponential University? Want to study a bachelor with a future?
Overview Study Plan
Let's go – your first semesters
Your first semesters are all about digital marketing goals and strategies and, of course, everything that makes the big orchestra sound.
You will learn how to develop and implement high-profile digital marketing and communication concepts. You will work with the key social media tools and learn to develop and implement demanding marketing and communication concepts. During all of your practical projects, the focus is always on the target group: Customer Centricity and User Experience (UX).
Digital communication and innovation management are another focus of your first semester, where you will learn how to apply modern communication and collaboration methods and techniques effectively and efficiently. You will explore innovation methods and techniques, including Slack, Jive and Google Allo. You will develop and test the latest digital methods and techniques in a playful way and acquire a high degree of digital tool competence.
In your fourth semester at XU Exponential University, you will study abroad at one of our international partner universities.
Final spurt – the last semesters of your studies
You will deepen your acquired digital skills and will select at least two elective subjects. If you want to know more, you may also choose other subjects.
And at the end of your studies in Digital Marketing and Social Media – your Bachelor Thesis.
In your last semester, you will complete your studies by writing a bachelor thesis. In your bachelor thesis, you will address concrete and practical questions in the digital domain. You can work on your thesis in cooperation with businesses, whether it be large corporations or start-ups.
Your studies. Your future. Your decision.
This also applies to your elective subjects. You decide which specialization suits you best. When making your choice, be sure to consider the experience you have gained from jobs, internships and projects and the demands that the job market places on you.
Digital Marketing Management
Become an expert in digital B2C and B2B marketing. You will develop innovative marketing strategies by using the full range of digital communication and working with the power of brands on all digital channels.
Social Media Marketing
Become an expert on social media strategies and campaigns. You place the right content at the right time, and you know exactly what digital channels to use when. You understand how and where to reach different audiences using social media. You are working on digital platforms like Instagram, Twitter or Linkedin and are actively including influencers into your campaigns.
Digital Marketing Communication
Become an expert on digital marketing communication. Mobile marketing is your passion and you understand what it takes to bring intelligent cross-media campaigns to success. You also know how to optimize likes and views. Search Engine Optimization (SEO) and Search Engine Advertising are your tools to establish digital visibility for brands and companies
Digital Marketing Integration
Become an expert on integrated digital marketing strategies and bring all of a company's digital marketing initiatives together into one big picture. Everything comes together through you. You know that content is key when it comes to launching successful, integrated cross-channel campaigns.
Digital Marketing Intelligence/Advanced Market Research
Become an expert on everything data. You know how they are collected, evaluated and used. You will guide the behavior and interactions of customers and react immediately to new market demands. You read data like others read books and fully understand their meanings and implications.
Digital Branding
Become an expert in digital branding. You know how brands are built and how they are created. You develop emotional brand experiences that inspire people, and thereby strengthen their loyalty to companies and products.
Digital Customer Relationship Management
Become an expert on digital customer retention. Create consistent customer experiences using the most effective, contextual, personalized tools across all digital communication channels. Customer centricity is your focus. User experience is a must-have for you. .
Digital Communication Design
Become an expert in digital design. You know the perfect combination of form, color and typography when designing creative digital content. Your design puts the spotlight on core content in such a way that even the most complex information is easily understood and important messages reach various target audiences.
Hello, future!
You successfully completed your bachelor studies in Digital Marketing and Social Media? What is next?
Depending on which specialization you have chosen, you can take off in the following areas, for example:
Search Engine Marketing (SEO, SEA)
Social Media Marketing
Mobile Marketing
Influencer Marketing
Performance Marketing
Content Marketing
Campaign Marketing
E-Commerce Marketing
Direct Marketing
E-Market Research
Your Bachelor's degree in Digital Marketing and Social Media opens up a wide range of job opportunities, as the demand for qualified Digital Marketing experts is high and continues growing.
With the digital know-how you acquired during your studies and your creativity, you are in demand in business as well as at start-ups, agencies and non-governmental organisations. Your digital marketing skills – such as online marketing, social media marketing or performance marketing – open doors for you.
Is this too established for you? Are new ideas exactly your thing? Then go and work for yourself. Our professors and the team at our Career Service Center will be happy to assist you.
StudyBeyond Concept
Our StudyBeyond concept allows you to combine your studies with your job. You're going to be studying practice-oriented at the university while being able to work at least one working day a week. We do support you in making a living and moreover, give you the opportunity to immediately apply the knowledge you have acquired during your studies. On the days you spend studying, you will take part in exciting coaching sessions, guest lectures and webinars. You will be taught by professors and digital founders who will pass on their practical knowledge, expertise, and industry experience to you. This gives you the opportunity to benefit from our partner network and build your own network of industry professionals, which will make it easier for you to start your career.
Full-Time Study
Application from the EU
Full-Time Study
Application from non-EU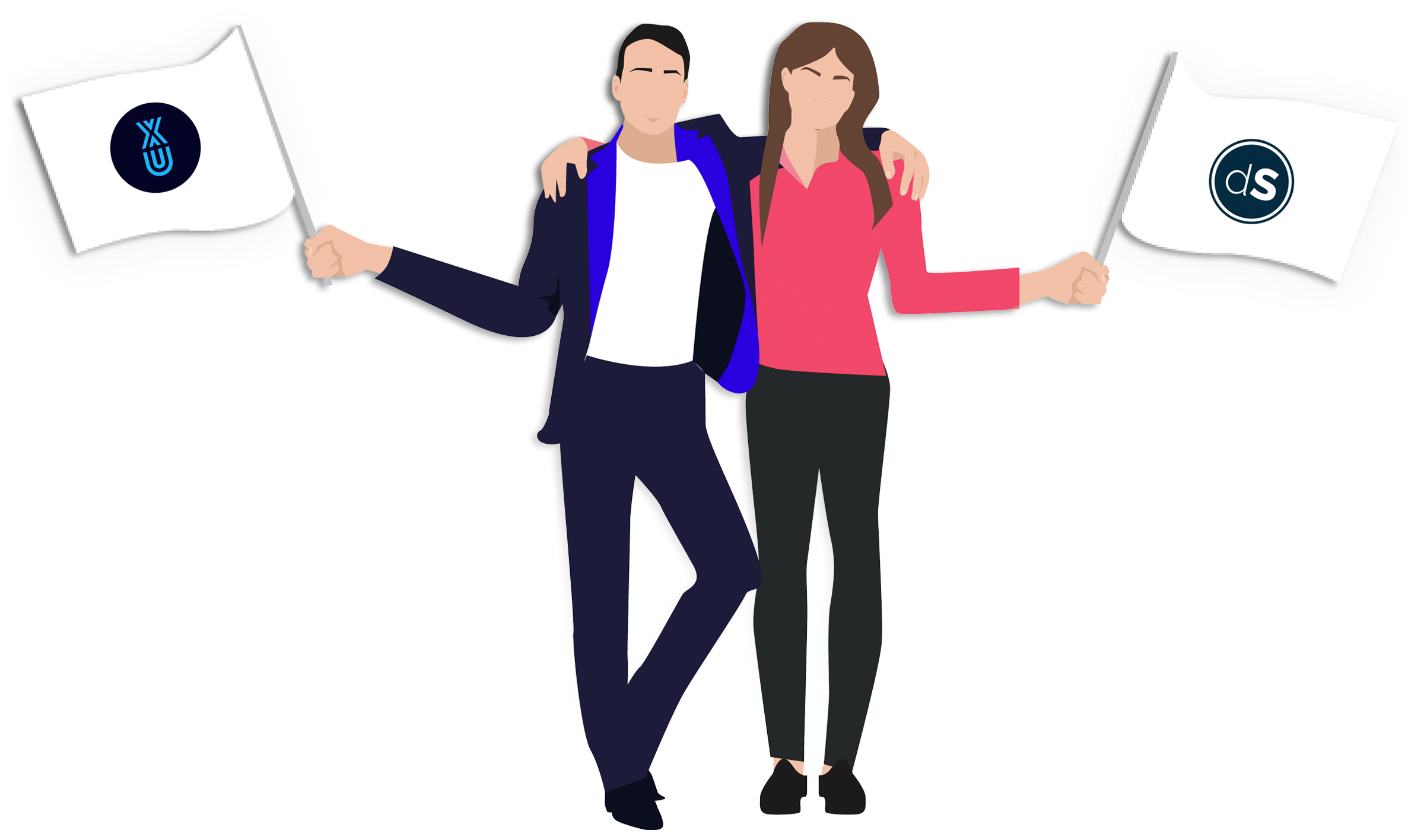 Studying our Bachelor in Digital Marketing and Social Media means studying for the jobs of the future.
You're in?
This way to your future.
You need more info?
Then just let us know.
You want to get a look behind the scenes?
Then check out our webinars.