Admission requirements
Bachelor's degree in economics, business administration, computer science or business informatics
additionally at least 1 year of professional experience in the field of study
Standard period of study
2 semesters
Degree
Master of Arts (M.A.), 60 ECTS
Type
Postgraduate master's program
Main areas of study
Digital Transformation
Digital Management
Digital Organization
Digital Human Rescources
Electives
Digital Marketing
Digital Security
Digital Technology
Data Processing & Big Data
Mobile Applications and Cloud Technologies
Cyber risk analysis and blockchain systems
Blockchain systems & fintech payment technologies
Big Data and AI
Practice
Practical projects, business games, labs, excursions
Language
English
Start of studies
April and October
For all digital rebels who see an opportunity in change.
You know that the digital transformation poses new challenges for companies from all sectors of the economy? Have you realised that digital management and digital human resources are becoming increasingly important? Last but not least, you are wondering which digital strategies are necessary today to ensure sustainable corporate success tomorrow and the day after tomorrow, and how they can be developed?
Then the Digital Transformation Management Master at XU University is the right choice for you. Our Master's programme is for all digital rebels who see new opportunities in change. The master's programme in Digital Transformation Management not only provides you with answers to questions about digital tools, enterprise management and digital solutions, but also gives you the knowledge and skills to make a digital transformation a success.
In the last twelve months, we have learned a lot about the state of digitalisation in our country. Above all, that we have done far too little in the last twenty years. This also applies to training in all digital professional fields.
Idols and role models have changed, today it's Elon Musk instead of Gottlieb Daimler. It's Steve Jobs instead of Werner von Siemens. Academic education has become obsolete to a large extent, so your academic competence needs a digital update. Just because we do almost everything with computers today doesn't mean that we have already implemented the digital transformation that all our workplaces need. It takes people who understand and can lead this process.
It pays to invest in your own future
Digital transformation sounds big and abstract, but it is already having a very concrete impact on job profiles and business models – and not least on your opportunities to leave a footprint in the world.
The current transformation is characterised by such force and speed that it is hardly possible to make serious statements about how we will live and work in ten or twenty years. But you can prepare yourself for this challenge: With the Master's programme in Digital Transformation Management at the XU Exponential University of Applied Sciences, you will acquire robust knowledge, practical skills and a compass that will enable you to safely navigate in confusing times.
The programme is designed as a continuing education programme; the courses take place on Fridays and Saturdays. So you can easily combine it with your job. What's particularly exciting is that you can immediately apply the knowledge and skills you learn in practical courses to your current professional environment. At the same time, you can also discuss your own professional challenges with lecturers and fellow students. So it pays off twice.
At XU Exponential University, you can expect a community in which teachers, students and staff share their strengths and experience, support each other and help each other succeed. This is the environment in which you can take the next step – for yourself, for your loved ones and, last but not least, so that together we can put a positive spin on digital transformation.
How we make you fit for the digital future
We explain to you how companies are positioned strategically, organisationally, culturally and in terms of personnel in order to successfully manage the digital transformation. You will independently drive digitalisation strategies for companies that are about to or are in the process of digital transformation.
You will learn about relevant technologies and understand how to build data-driven business models on a technological foundation in the age of the platform economy. In addition, you will develop a comprehensive understanding of a variety of relevant drivers of the future and deal intensively with data analytics, AI, VR, blockchain, digital leadership, digital strategy and digital governance, among others. In doing so, you will not only build your own network, but also important core competencies to advance the digital transformation as a Digital Transformation Manager.
You will gain all the skills you need to apply your expertise to digital transformation and technology projects in large corporations and smaller start-ups. In addition to management and leadership skills against the backdrop of the digital transformation, you will acquire the ability to prepare key positions in the management of business innovations and to understand the underlying key technologies.
We support best practice learning with external experts, because we strive for a high degree of practical relevance and want to ensure that you are up to the challenges of digital transformation. Your studies will not only provide you with the vision, but also with the tools to make your company or your career saddle-proof and future-proof.
Have we piqued your interest in doing your Master's in Digital Transformation Management at XU Exponential University – to start your studies with a future? Then don't wait any longer!
Our Master's programme is open to you if you have a relevant Bachelor's degree and work experience of at least one year after your graduation. The English-language programme at XU Exponential University starts once a year in October and the standard duration of study is 2 semesters. The courses take place on Fridays and Saturdays, so you can continue to work – or use your studies as a springboard. You receive 60 ETCS credits for the entire Master's programme and graduate with a Master of Arts degree.
Your studies. Your future. Your decision.
This also applies to your elective subjects. You decide which specialization suits you best. When making your choice, be sure to consider the experience you have gained from jobs, internships and projects and the demands that the job market places on you.
Digital Marketing
As an expert in digital marketing, you know exactly which social media strategies and new tools are in demand. You have a deep understanding of Search Engine Marketing and you are well experienced in Search Engine Optimizing (SEO) and Search Engine Advertising (SEA). You are leading the digital way to reach different target groups and inspire them with brands and companies.
Digital Engineering
As an expert on digital engineering, you know what lies behind an app and with which state-of-the-art methods an app is developed. But that is not all. You gain the practical expertise to build your own app. How about going "on air " with your own portfolio site?
Digital Security
As an expert on digital security, you are responsible for the protection of our data, a subject that has everyone's attention. Data security and cyber security – it is what you know best. You know exactly what constitutes successful IT security management and how it is put into practice.
Hello, future!
You successfully completed your master's degree in Digital Transformation Management? What's next?
Our Master's programme in Digital Transformation Management offers you a wide range of job prospects, because the demand for well-trained experts who can develop and implement digital strategies is high. And the trend? It is increasing, because the digital transformation is taking hold of all areas of the economy and society, and digitisation is on its way.
Typically, experts like you are found in central interface functions within the company, such as human resources or organisation. So how about a career as a Digital Manager with a focus on Strategy and Digital Governance? But would you rather pursue a career as a Digital Organisation Manager for Digital Culture and Change? Are you looking to embark on a career in Digital Human Resources Management where you emphasize Digital Recruitment, Digital Assessment and Performance Management? With a master's in Digital Transformation Management, the opportunities are endless.
No matter what you choose – as a manager digital transformation, you are in demand in numerous and very different sectors and areas. Whether in big corporates, long-established companies, agencies, start-ups, consulting firms or non-governmental organizations. Whether in a large corporation, traditional company, agency, start-up or non-governmental organisation, digital transformation manager is a profession with a future.
Full-Time Study
Application from the EU
Full-Time Study
Application from non-EU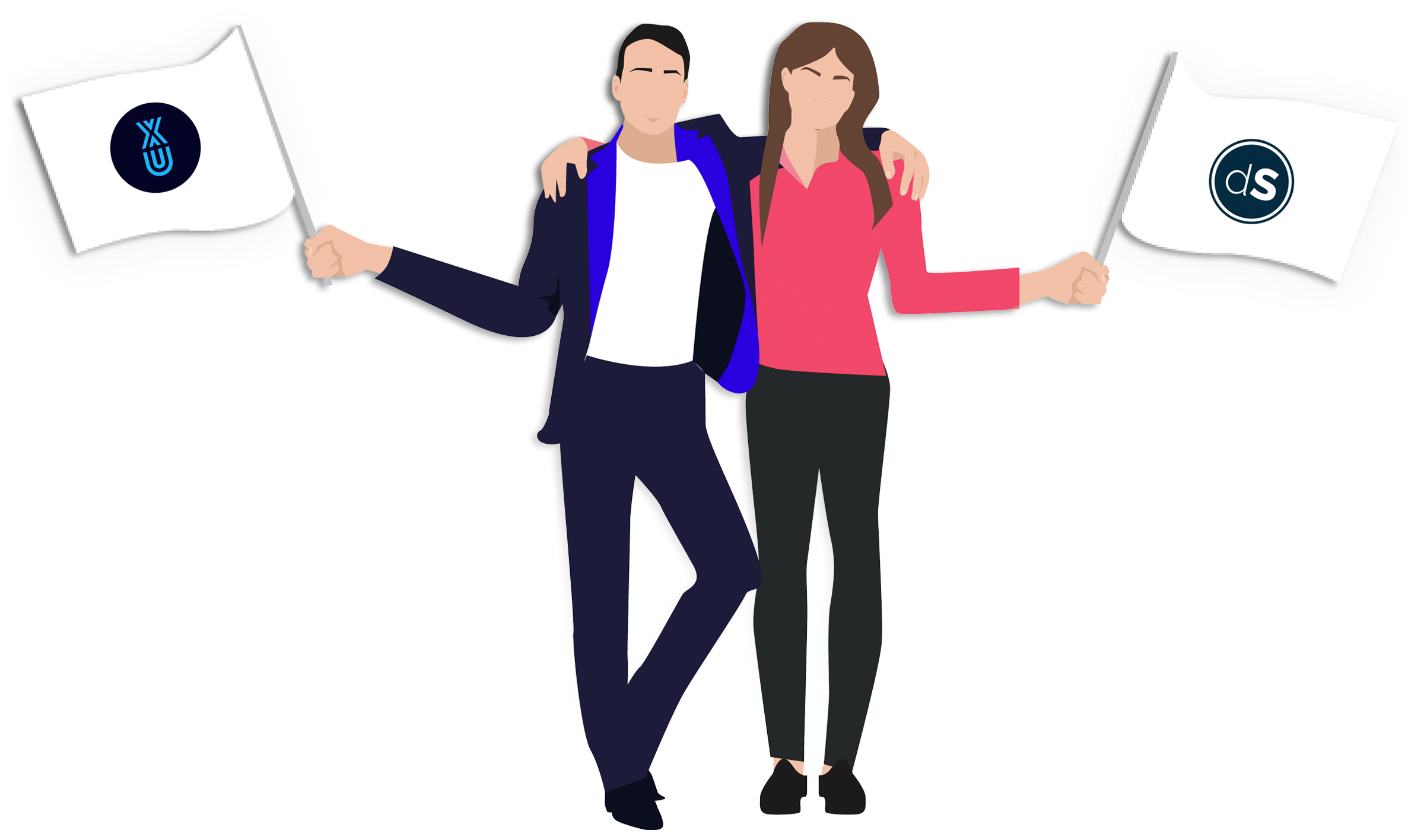 Studying our Master in Digital Transformation Management
means studying for the jobs of the future.
You're in?
This way to your future.
You need more info?
Then just let us know.
You want to get a look behind the scenes?
Then check out our webinars.