Standard period of study
2 semesters
Degree
Master of Arts (M.A.), 60 ECTS
Type
Postgraduate master's program
Main areas of study
Digital Transformation
Digital Management
Digital Organization
Digital Human Rescources
Specializations
Digital Marketing
Digital Security
Digital Engineering
Study Abroad
International Summer School in the 1st. Semester
Practice
Practical projects, business games, labs, excursions (full-time option)
Language
English
Begin of studies
Beginning of October
Accreditation
Central evaluation and accreditation agency
For all digital rebels, who see opportunity in change.
Our post-graduate master's degree is suitable for all professionals with at least three years of relevant work experience. The Digital Transformation Management master's program is meant for all rebels who see opportunities in change. Are you asking yourself what challenges digital transformation poses to the economy and its workforce? Which digital strategies are needed today to ensure the sustainable success of tomorrow and beyond? And how do you develop them?
Are you wondering what digital human resources even means? What will the work of the future look like? Which skills will tomorrow's professionals need? And how can these new digital competencies be transferred to companies and their employees?
Are you asking yourself what digital leadership means? What characterizes digital leaders and which tools do they use? Also, what is agile management?
Do you want to know what digital culture has to do with corporate success? How do you create it and how can it be firmly rooted in enterprises?
Do you wonder what digital governance involves? How do companies decide on when innovation processes need to be tackled? What are the key digital targets, roles, responsibilities, frameworks and standards for these processes?
Our master's degree program in Digital Transformation Management not only provides digital rebels like you with answers to your questions but also with the knowledge and skills to drive change. Want to study the Digital Transformation Management Master's at XU? Do you want to study with a future?
All about your Master's program in Digital Transformation Management
Reach the Master level
You will gain all the core competences you need in order to become a Digital Transformation Manager and drive digital transformation.
During your master's program, you will acquire the necessary knowledge through various applied modules, which revolve around everything digital business management.
The connecting element of all the modules: You will work with all relevant aspects of digital transformation (digital journey, digital solutions) and will concentrate on digital management (digital strategy, digital governance) and digital human resources (digital recruitment, digital assessment/performance management).
You will become proficient in how companies are strategically, organizationally and culturally set up to successfully tackle the digital transformation. You will learn what it takes to develop and implement digitalization strategies for companies that are approaching or currently undergoing digital transformation.
In addition, you will learn how to plan and realize a change project focused on digitalization that aims to adapt strategies, structures and processes.
Your studies. Your future. Your decision.
This also applies to your elective subjects. You decide which specialization suits you best. When making your choice, be sure to consider the experience you have gained from jobs, internships and projects and the demands that the job market places on you.
Digital Marketing
As an expert in digital marketing, you know exactly which social media strategies and new tools are in demand. You have a deep understanding of Search Engine Marketing and you are well experienced in Search Engine Optimizing (SEO) and Search Engine Advertising (SEA). You are leading the digital way to reach different target groups and inspire them with brands and companies.
Digital Engineering
As an expert on digital engineering, you know what lies behind an app and with which state-of-the-art methods an app is developed. But that is not all. You gain the practical expertise to build your own app. How about going "on air " with your own portfolio site?
Digital Security
As an expert on digital security, you are responsible for the protection of our data, a subject that has everyone's attention. Data security and cyber security – it is what you know best. You know exactly what constitutes successful IT security management and how it is put into practice.
Hello, future!
You successfully completed your master's degree in Digital Transformation Management? What's next?
Our Master's program in Digital Transformation Management offers you extensive job opportunities, because there is a high demand for well-trained experts* who can develop and implement digital strategies. And the trend? It is increasing, because the digital transformation is taking hold of all areas of the economy and society, and digitisation is on its way.
Our Master's program in Digital Transformation Management offers you extensive job opportunities, because there is a high demand for well-trained experts* who can develop and implement digital strategies. How about a career as a Digital Manager with a major focus on strategy and digital governance? But would you rather pursue a career as a Digital Organization Manager* for Digital Culture and Change? Are you looking to embark on a career in Digital Human Resources Management where you emphasize Digital Recruitment, Digital Assessment and Performance Management? With a master's in Digital Transformation Management, the opportunities are endless.
No matter what you decide to do, you will be in demand across a wide range of industries and sectors, wherever concepts, methods and tools of digital business management are needed to advance digital transformation. Whether in big corporates, long-established companies, agencies, start-ups, consulting firms or non-governmental organizations. Whether in a large corporation, traditional company, agency, start-up or non-governmental organisation, digital transformation manager is a profession with a future.
StudyBeyond Concept
Our StudyBeyond concept allows you to combine your studies with your job. You're going to be studying practice-oriented at the university while being able to work at least one working day a week. We do support you in making a living and moreover, give you the opportunity to immediately apply the knowledge you have acquired during your studies. On the days you spend studying, you will take part in exciting coaching sessions, guest lectures and webinars. You will be taught by professors and digital founders who will pass on their practical knowledge, expertise, and industry experience to you. This gives you the opportunity to benefit from our partner network and build your own network of industry professionals, which will make it easier for you to start your career.
Are you interested in our programs and would like to apply? Take advantage of our Early Bird Special now. Are you interested in our programs and would like to apply? Take advantage of our Early Bird Special now. Conclude your study contract until April 30st and receive a discount up to 2000€. Check out all special prises on our website, with discount already deducted. Our current special prices have discount already deducted.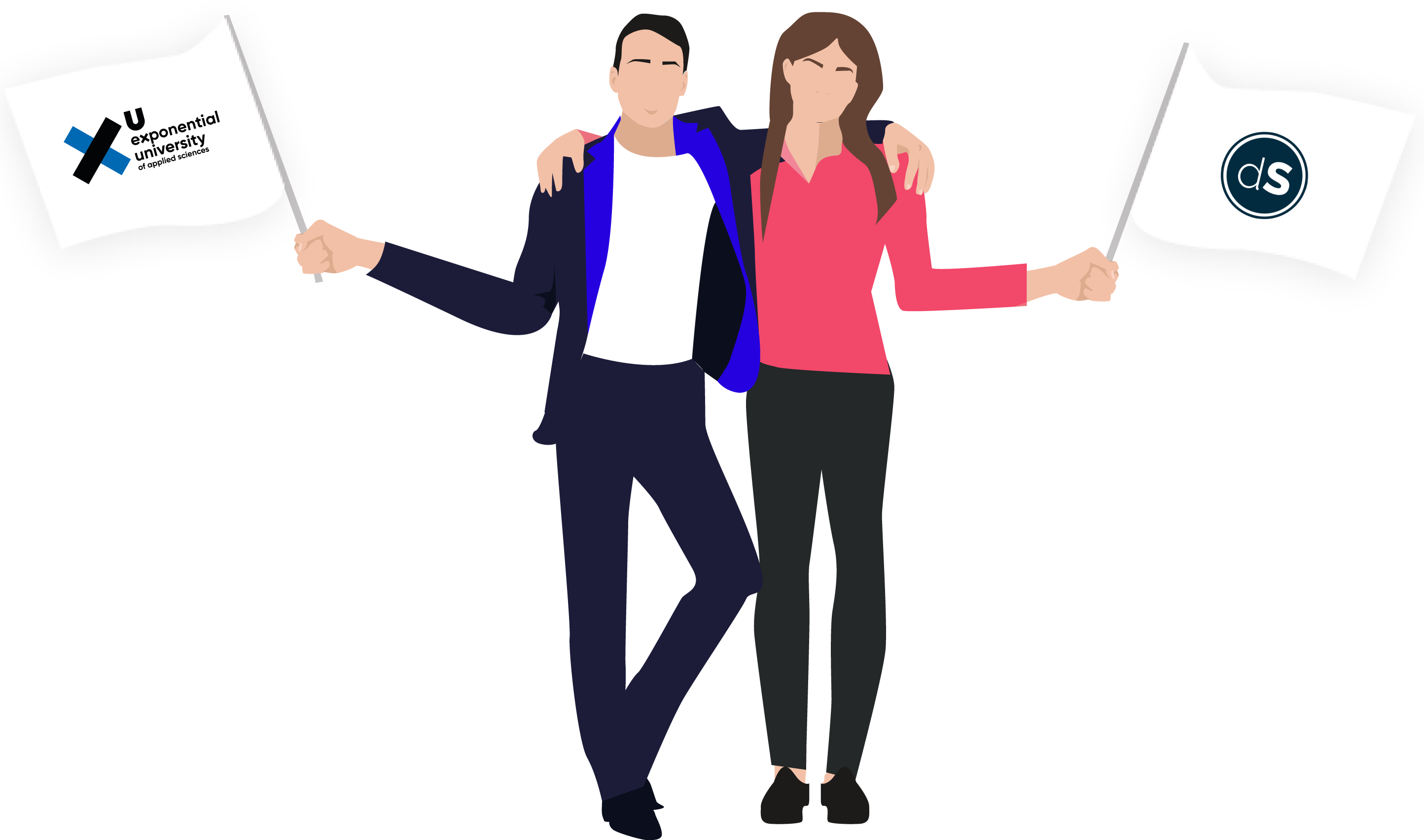 Studying our Master in Digital Transformation Management
means studying for the professions with a future.
You're in?
This way to your future.
You need more info?
Then just let us know.
You want to know what it's like behind the scenes?
Then take a look at one of our webinars.