Digitalisation and automation are advancing in leaps and bounds and are having a major impact not only on our private lives, but also on the economy and the world of work as we know it. Above all, how we work is changing, everything is becoming increasingly digital or even completely taken over by new technologies. Individual professions will disappear over time, while other professions are experiencing an unprecedented trend. These include, for example, care workers, educators and craftsmen. In addition to these existing professions, however, completely new occupational fields are developing as a result of digitalisation, which require special know-how and are often linked to an academic career.
Our mission is to train the future pioneers of digital transformation.
All our degree programmes are adapted to the requirements of the evolving labour market and are constantly re-evaluated. The aim of XU Exponential University is to fully prepare you for the professions of the future. In addition to new technologies on campus, such as a 3D printer and a robotic arm, we focus teaching on digital solutions and connect theory directly with practical application. You also profit from our global network, consisting of the XU Friends Club, our professors and lecturers as well as our corporate partners – all recognised experts from the digital economy – in a unique ecosystem. You learn from and with startup founders, investors and board members. Through regular events and guest lectures on campus and company visits, you will also gain insights into the latest know-how and trends in the fields of digitalisation and technology.
Would you like to get an impression and learn more about XU, the campus and teaching? Then just take a look at our dates and find out about our monthly Open Campus days and trade fair dates throughout Germany.
Are you interested in current trends and developments? We regularly offer webinars on the topic of "Occupational fields of the future" and many other exciting insights. Register without obligation and learn more about the future of the working world.
Entrepreneurship in teaching
All our programmes are designed to give you the best of both worlds – you will gain in-depth knowledge in your Bachelor's or Master's programme while building a broad knowledge base of all areas of digital transformation with other students. In the process, we give you the tools you need to set up your own business or run a company later on.
Even if you have not (yet) decided to take the path of entrepreneurship, professions in the digital economy are in extremely high demand. This puts you in an ideal position for jobs with a high salary, attractive benefits and very good development prospects.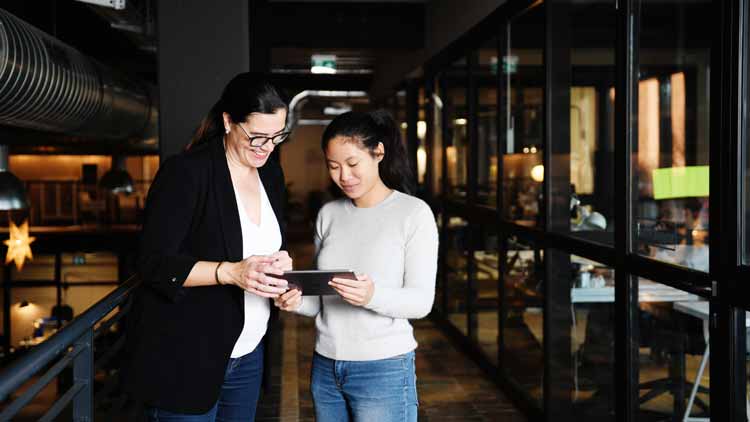 The professions of the future
Here we introduce you to six interesting professions of the future and which degree programme will best prepare you for them.
Our orientation quiz
Are you still not sure in which direction you want to go or what you should study? Take our quiz on "What should I study?".