Standard period of study
6 semesters
Degree
Bachelor of Science (B. Sc.), 180 ECTS
Main areas of study
Data Analytics Methods
Data Science Methods
Data Science Applications and Tools
Data Security

Innovation Management Skills
Specializations
Specializations during 5th and 6. semester:
Programming and Optimization
Domain Specific Cases Studies and Tools
Web Technologies
Security
Computational Intelligence and Team Management
Study Abroad
In the 4th semester of the full-time option
Practice
Intern domestically or internationally, practical projects, business games, labs, excursions
Language
English
Begin of studies
Beginning of October
Accreditation
Central Evaluation and Accreditation Agency (ZeVA)
A degree with a future, for all those who create knowledge from data
Are you wondering how new business ideas are created from data? What do these business models actually look like? Most importantly, how can precise predictions and reliable future forecasts be made on the basis of gathered information? What do these business models even look like? And what does this mean for their growth?
What effect does this have on product design, quality assurance, employee development and marketing? Above all, what does this mean for customers? Do you want to know how these data are collected, processed and analyzed? And what is Big Data all about?
Which methods and tools are being used? Which legal and ethical questions need to be considered within data science projects? Are you thinking of how data sources can be used to create innovations and new market-driven products or services? What processes are involved?
Similarly, which rules of the game have to be taken into account? What is machine learning, a subarea of artificial intelligence, and how does it actually work? In which sectors is machine learning being used today?
Where does the potential lie for tomorrow and in the future? In which areas is machine learning used today? Where are the potentials of tomorrow and the day after tomorrow?
Our bachelor's degree in Data Science offers explorers like you not only answers to your questions, but a springboard to build the knowledge and skills to stay one step ahead of the future. Data Scientist is one of the most sought-after professions of the 21st century. Interested studying the Bachelor in Data Science at XU Exponential University? Do you want to study with a future?
All about your Bachelor's degree in Data Science
Let's go – your first semesters
In your first semesters, everything centers around data science project management: data collection, processing and evaluation. In applied project work, you will learn how to professionally visualize and present results that you have gained from data information. After the first semesters, you will already have key data science skills and will be familiar with all important data science methods, apps and tools. In addition, you will obtain extensive knowledge in the modules of Big Data/Smart Data, Artificial Intelligence/Machine Learning and Data/Cyber Security.
Another focus of your first semester is communication and innovation management, where you will learn how to apply modern communication and collaboration methods and techniques effectively and efficiently. You will work with innovation methods and techniques, including design thinking and lean start-up methods. You will develop and test the latest digital methods and techniques in a playful way and acquire a high degree of digital tool competence.
In your fourth semester at XU Exponential University, you will study abroad at one of our international partner universities.
Final spurt – your last semesters
You will deepen your acquired digital skills and will select at least two elective subjects. If you want to know more, you may also choose other subjects.
And last but not least – your bachelor-thesis
In your last semester, you will complete your studies by writing a bachelor thesis. In your bachelor thesis, you will address concrete and practical questions in the area of Data Science/Data Analytics.You can work on your thesis in cooperation with businesses, whether it be large corporations or start-ups.
Your bachelor's degree in Data Science. Your future. Your decision.
This also applies to your elective subjects. You decide which specialization suits you best. When making your choice, be sure to consider the experience you have gained from jobs, internships and projects and the demands that the job market places on you.
Programming and Optimization
Become a linguistic genius and discover the full potential of coding languages that can be used to effectively and successfully evaluate data. High-end data analytics is the topic with which you tackle challenging tasks and develop new solutions.
Domain Specific Case Studies and Tools
Become an all-rounder and gain an overview of the multifaceted and very broad fields of application (domains) for data science. Expand your analytics skills with applied case studies and tools in business, finance, HR/talent recruitment, marketing/web, health and sports.
Web Technologies
Become a creator for all the functional, technical and design needs of the websites and apps of today and tomorrow. You will build up the necessary expertise through practical modules focusing on social media marketing and user experience (UX).
Security
Become a specialist for data security and data protection. For you, everything is about information security and its risks. More importantly, this entails how risks can be reduced or eliminated through strategic and operational methods. You will also deepen your knowledge through case studies on data and information security as well as on relevant legal conditions.
Computational Intelligence
Become an expert in Machine Learning and Artificial Intelligence. In applied modules on computational intelligence, you will learn everything about learning principles, network types and artificial neural networks. You will expand your knowledge on state-of-the-art technologies and applications that are needed for implementation on the machine (computer). You will develop and implement the relevant strategies and are training neural networks.
Team Management
Become a manager for data science projects and build teams that lead them to success. Your keyword is: leadership skills. In applied modules, you will expand your expertise in HR management. In addition, you will broaden your competencies in business management by applying selected concepts, models and methods.
Hello, future!
You successfully completed your bachelor studies in Data Science? What's next?
Depending on which specialization you have chosen, you can take off in the following areas, for example:
Data Science/Data Analytics
Data/Information Security
Research and Development
Innovation Management
Marketing Management
Business Development
Consulting
Your bachelor's degree in Data Science makes you a frontrunner in many different fields and industries. Your digital and analytical skills are in demand, whether it be in business (large corporations or long-established companies), start-ups, agencies, consulting firms and public authorities. And this trend continues to rise.
Experts that can collect, process and evaluate data, identify the economic potential from it and develop recommendations for action that ensure the success of companies, services and products of the future are in high demand on the market. The demand is only growing here as well.
In addition, there are a large number of career opportunities for all-rounders who will bring the future forward in interdisciplinary positions between research and development, innovation and product management, marketing and business development. And the trend? Also on the upswing. Data Scientist is definitely a profession of the future.
StudyBeyond Concept
Our StudyBeyond concept allows you to combine your studies with your job. You're going to be studying practice-oriented at the university while being able to work at least one working day a week. We do support you in making a living and moreover, give you the opportunity to immediately apply the knowledge you have acquired during your studies. On the days you spend studying, you will take part in exciting coaching sessions, guest lectures and webinars. You will be taught by professors and digital founders who will pass on their practical knowledge, expertise, and industry experience to you. This gives you the opportunity to benefit from our partner network and build your own network of industry professionals, which will make it easier for you to start your career.
Full-Time Study
Application from the EU
Full-Time Study
Application from non-EU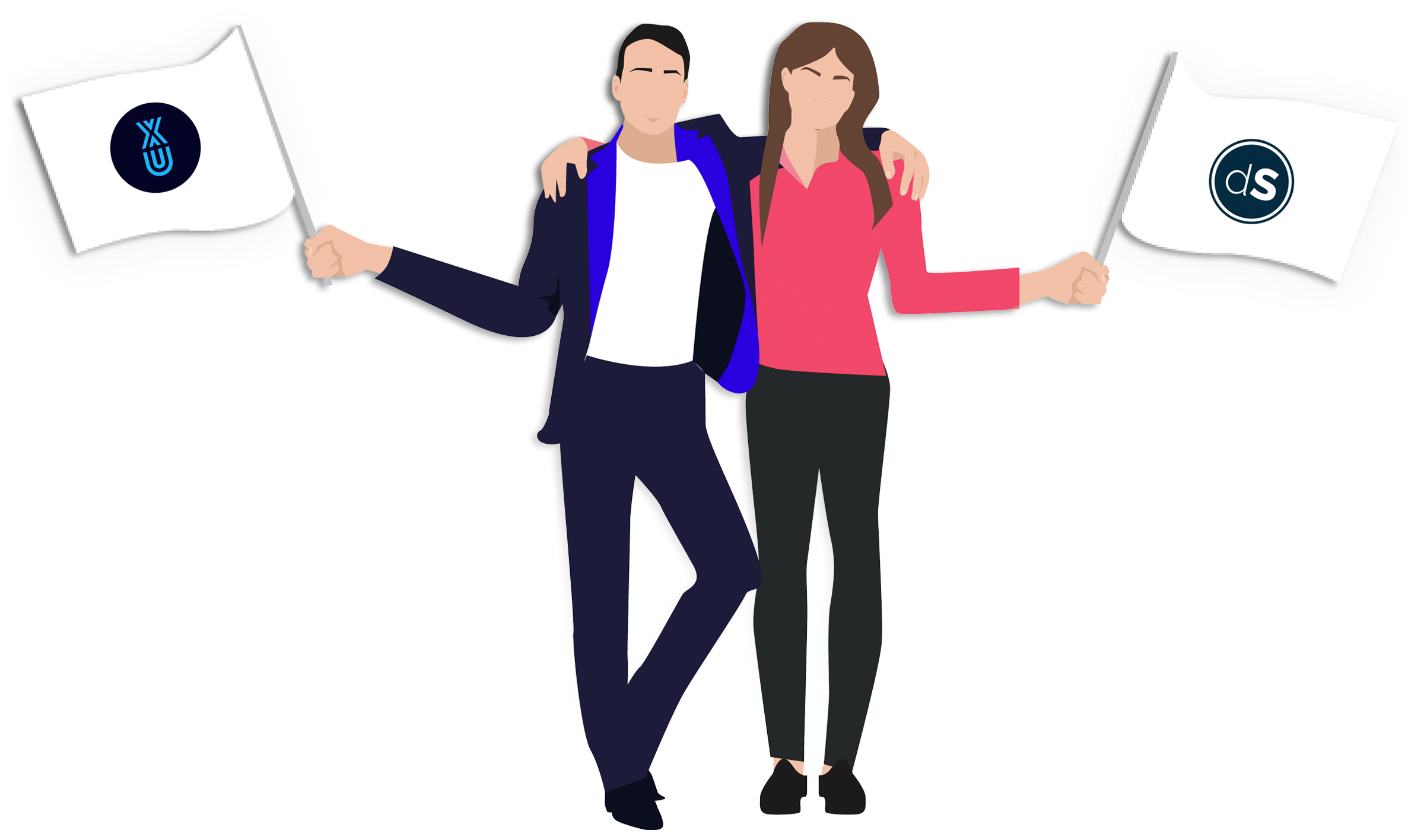 Studying our bachelor's program in Data Science
means studying for the jobs of the future.
You're in?
This way to your future.
You need more info?
Then just let us know.
You want to get a look behind the scenes?
Then check out our webinars.