Standard period of study
4 semesters
Degree
Master of Science (M. Sc.), 120 ECTS Credit Points
Type
Consecutive master's program
Main areas of study
Data Science Operations, Applications and Innovations
Data Science Methods (Predictive and Prescriptive Analytics)
Data Science Computing
Leadership Assessment Center
Leadership Skills
Research Skills
Specializations
Information Analysis
Business Analysis
Human Interaction/Natural Language Processing (NLP)
Study Abroad
International Summer School in the 2nd Semester
Practice
Intern domestically or internationally, practical projects, business games, labs, excursions
Language
English
Begin of studies
Beginning of October*
Accreditation
Central evaluation and accreditation agency
* = pending state recognition by the state of Brandenburg
A course of study for the analysts of the digital future
Our Master in Data Science (in planning) is a degree programme for all forward thinkers who are planning today the digital precision landings of the day after tomorrow. Do you want to know how large data science projects are set up and managed? Which cross-sectional areas and competencies need to be taken into account? And how can these be linked to create viable innovation potentials for industry, technology, research and development?
Do you wonder how you can eliminate the risk factor in future predictions for large-scale innovation and production processes? Curious which methods and techniques to use?
Do you want to know which figures, data, facts, interfaces and functions you need to access so that your calculations turn into hits? And how do you transform them into a strategic roadmap for tomorrow's success?
Are you asking yourself how to build a data science team? Which competencies and profiles are needed to form a successful team? And how does leadership even work today?
Our master's program in Data Science will not only give you answers to your questions, but will also give you the knowledge and skills you need so that the future can emerge from your forecasts. Interested in studying the Data Science Master's at XU Exponential University? Do you want to study with a future?
Overview Study Plan
Achieve master's level in extracting knowledge from data and build the core competencies required to become a Data Scientist leader who can define tomorrow's new directions and innovations today.
During your master's program, you will acquire the necessary expertise in a variety of applied modules that focus on Data Science Fundamentals, Data Science Methods and Computer Science.
The Data Fundamental modules will connect all relevant aspects of data science. This includes Operations, Applications and Innovations. You will deepen your practical skills in data science and process management projects as well as in the necessary programming languages and applications. One such example comes from the field of predictive analysis in which you will learn to address customers more specifically based on their potential behavior.
Within the Data Science Methods module, you will broaden your competences in predictive and prescriptive analysis. Practical project work will enable you to determine how these methods are applied and how you can derive reliable and relevant forecasts from your data analysis.
The Computer Science module gives you detailed insights into how new technologies and methods of Parallel Computing, Cognitive Computing and Disruptive Computing are applied to data science projects and used in practice.
During your master's program, you will expand your existing knowledge of Digital Leadership with a two-phase Leadership Assessment (in the first and fourth semesters).
In addition, you will establish consulting competences as part of a practice project and deepen your qualitative and quantitative research methods during a practice-oriented research project.
Your Master's degree in Data Science. Your future. Your decision.
This also applies to your elective subjects. You decide which specialization suits you best. When making your choice, be sure to consider the experience you have gained from jobs, internships and projects and the demands that the job market places on you.
Information Analysis
Become an information superhero and lay the decision-making groundwork for tomorrow's successes. You use the entire data infrastructure, restore archived information (data retrieval) and bring that information back into the game, which gets you right to the bottom of data. Not only are you familiar with all retrieval models and methods and the architecture of retrieval systems but also with their various fields of application (e.g. search engines). Your toolset also includes User Behavior, User Interfaces, Web Information Retrieval and Multi Retrieva, which you use to generate precise analyses on the behavior of target audiences (e.g. customers).
Business Analysis
Become a trailblazer and use your interdisciplinary, digital skills to set the course for major cross-sectional fields of the economy. Your forecasts determine the success factors of the future and provide the blueprints for the respective departments. You use Marketing Analytics to gain a better understanding about the market (your customers) and to even more effectively address it. You set the stage for all future marketing activities. Using Financial Analytics, you evaluate and manage the economic viability of a business. Financial Investment Analytics is your tool of choice when it comes to assessing important investments for tomorrow and beyond.
Human Computer Interaction/Natural Language Processing (NLP)
Become a translator and link man and machine, thereby creating new ways of interaction. Be it simplified handling of new products for the most diverse target audiences or controlling large-scale machines by voice or language assistants, you determine the dialogs. Not only are you versed in all theoretical and conceptual approaches from linguistics (speech recognition, speech processing, speech generation) and computer science (including Artificial Intelligence, Machine Learning) but have also acquired the needed methods and techniques through applied projects.
Hello, future!
You successfully completed your master's degree in Data Science? What's next?
Our Master's programme in Data Science (in planning) offers you extensive job prospects, because the demand for well-trained experts who can develop analyses for central questions of the future is high. And this trend continues to rise. This applies to businesses, industry, commerce, research and development as well as consulting.
Forward-thinkers like you can be found wherever large data is generated and used for forecasting or decision-making.
How about a career in consulting to accompany very different industries toward the future? Would you rather embark on a path toward the interface of Human Computer Interaction where you bring the communication between man and machine to the next level? Would you prefer to jump-start in trend management where you not only get to know the next generations of innovation first but also get them rolling? Perhaps you want to take off as a Business Development Manager? What about in Innovation Management? And what about a career in research and development?
Regardless of what you decide to do, your master's degree in Data Science opens doors wide open for you across all industries and sectors.
StudyBeyond Concept
Our StudyBeyond concept allows you to combine your studies with your job. You're going to be studying practice-oriented at the university while being able to work at least one working day a week. We do support you in making a living and moreover, give you the opportunity to immediately apply the knowledge you have acquired during your studies. On the days you spend studying, you will take part in exciting coaching sessions, guest lectures and webinars. You will be taught by professors and digital founders who will pass on their practical knowledge, expertise, and industry experience to you. This gives you the opportunity to benefit from our partner network and build your own network of industry professionals, which will make it easier for you to start your career.
Full-Time Study
Application from the EU
Full-Time Study
Application from outside the EU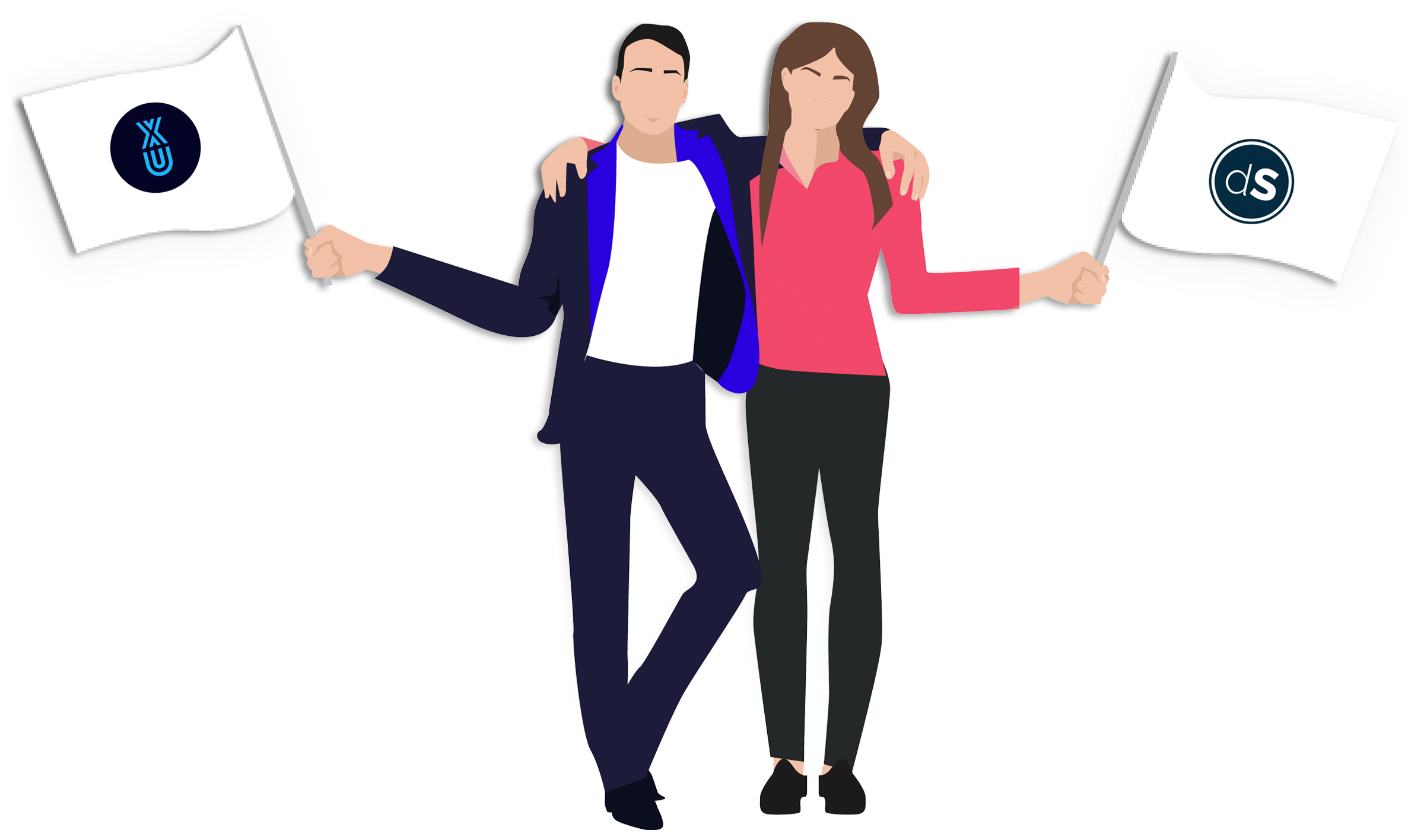 Study our Master in Data Science
means studying for the professions with a future.
You're in?
This way to your future.
You need more info?
Then just let us know.
You want to know what it's like behind the scenes?
Then take a look at one of our webinars.