Standard period of study
6 semesters
Degree
Bachelor of Science (B. Sc.), 180 ECTS
Main areas of study
Digital Business
Business Administration
Innovation Management Skills
Specializations
Specializations during 5th and 6th Semester:
Digital Marketing Management
Digital Technology Management
Digital Mobility Management
Digital Retail Management
Start-up Management
Digital Research and Development
Study Abroad
In the 4th semester of the full-time option
Practice
Intern domestically or internationally, practical projects, business games, labs, excursions
Language
English
Begin of studies
Beginning of October
Accreditation
Central Evaluation and Accreditation Agency (ZeVA)
For all leaders, who shape the company of tomorrow.
Our Bachelor in Digital Business is a degree programme for all doers who are helping to shape the company of tomorrow. Are you wondering how Google, Uber or Airbnb successfully master the challenges of digitalization? What do their digital business models as well as the processes behind them look like? Which systems and applications do these companies use? What does it take for companies to achieve sustainable success?
Do you wonder why digital start-ups are popping up everywhere? And why are more and more companies investing in their new digital ideas and solutions? Why do corporations rely on digital business and innovation units? Why do they set up think tanks and digital labs on greenfield sites?
Are you wondering how companies, start-ups or agencies develop digital business models, select modern applications and why data is the oil well of the 21st century?
Do you want to know what large consulting firms are up to when they advertise 20 vacancies for digital business managers?
Our bachelor's degree programme in Digital Business not only provides doers like you with answers to your questions, but also gives you the knowledge and skills you need to help shape the company of tomorrow. Would you like to study digital business at the XU Exponential University? Interested in a Bachelor with a future?
Overview Study Plan
Let's go – your first semesters
In your first semesters, everything revolves around digital business processes and models. This also includes the systems behind it. You will learn how to evaluate traditional and existing business models and how to develop and implement new digital business models. You will work with information, communication and transaction systems, data, data structures and databases as well as apps that support you in managing business challenges in the context of digital transformation.
Another focus of your first semester is communication and innovation management, where you will learn how to apply modern communication and collaboration methods and techniques effectively and efficiently. You will work with innovation methods and techniques, including design thinking and lean start-up methods. You will develop and test the latest digital methods and techniques in a playful way and acquire a high degree of digital tool competence.
If you are a full-time student at XU Exponential University, you will study at one of our international partner universities in the fourth semester. You have the choice at which of our partner universities you would like to spend your semester abroad. You have the choice at which of our partner universities you would like to spend your semester abroad.
Final spurt – your last semesters
You will deepen your acquired digital skills and will select at least two elective subjects. If you want to know more, you may also choose other subjects.
And last but not least – your bachelor thesis
In your last semester, you will complete your studies by writing a bachelor thesis. In your bachelor thesis, you will address concrete and practical questions in the digital domain. You can work on your thesis in cooperation with businesses, whether it be large corporations or start-ups.
Your studies. Your future. Your decision.
This also applies to your elective subjects. You decide which specialization suits you best. When making your choice, be sure to consider the experience you have gained from jobs, internships and projects and the demands that the job market places on you.
Digital Marketing Management
Become an expert on Digital Communication, Brand Communication and Cross-Media Marketing. You will develop strategic concepts, use the entire range of digital communication and work with the power of brands.
Digital Mobility Management
Become an expert on the megatrend of mobility. As a Mobile Solutions Manager, you will set up Mobile Businesses for companies and replace conventional technologies. You are well versed in influencing variables, digital models and digital technologies (e.g. wearables, mobile marketing).
Digital Retail Management
Become a Digital Retail Manager and answer questions about the "right" digital strategies and tools for Retail 4.0. As an expert, you will support companies in taking greater account of their customers' requirements and wishes. In an applied project, you have set up your own online shop.
Start-up Management
Become an entrepreneur and let your start-up ideas of today turn into the digital innovations of tomorrow. You have all the digital methods and skills at your disposal. Your entrepreneurial skills have been tested and expanded in a realistic simulation game.
Digital Research and Development
Become an expert in research and development. With your extensive expertise, you will contribute to the successful digital transformation of companies. You understand the role of research and development in the innovation process and can execute your own digital research project.
Digital Technology Management
Become a Digital Technology Manager. Expand your expertise from the first semesters with specific knowledge in the explosive, future-oriented fields of data and cyber security. You know what the industry of the future will look like: Industry 4.0, New Manufacturing Technologies.
Hello, future!
You successfully completed the bachelor studies in Digital Business? What is next?
Depending on which specialization you have chosen, you can take off in the following areas, for example:
Digital Business Model Development
Digital Marketing Management
Digital Technology Management
Digital Mobility Management
Digital Retail Management
Digital Start-up Building
Digital Research and Development
Digital Business Management
Your bachelor's degree in Digital Business opens up a wide range of job opportunities, as the need for well-trained experts is high and rising. And this holds true in numerous industries and areas. Your digital expertise and your mindset are in demand in businesses, start-ups, public authorities and non-governmental organizations as well as in science, research and development.
Today, companies increasingly need more and more well trained experts who can contribute to the development of new digital business models and processes while also making them competitive and scalable. In the wake of digital transformation, yesterday's successes are no longer a guarantee for the success of tomorrow.
As an expert, you are also sought after in science, research and development when introducing new digital technologies and digital innovations, for example.
The same applies to experts that use digital marketing concepts and instruments to reach new target groups and promote brand loyalty.
Is all this too conventional for you? Then go and work for yourself. Our professors and the team at our Career Service Center are happy to support you.
StudyBeyond Concept
Our StudyBeyond concept allows you to combine your studies with your job. You're going to be studying practice-oriented at the university while being able to work at least one working day a week. We do support you in making a living and moreover, give you the opportunity to immediately apply the knowledge you have acquired during your studies. On the days you spend studying, you will take part in exciting coaching sessions, guest lectures and webinars. You will be taught by professors and digital founders who will pass on their practical knowledge, expertise, and industry experience to you. This gives you the opportunity to benefit from our partner network and build your own network of industry professionals, which will make it easier for you to start your career.
Full-Time Study
Application from the EU
Full-Time Study
Application from non-EU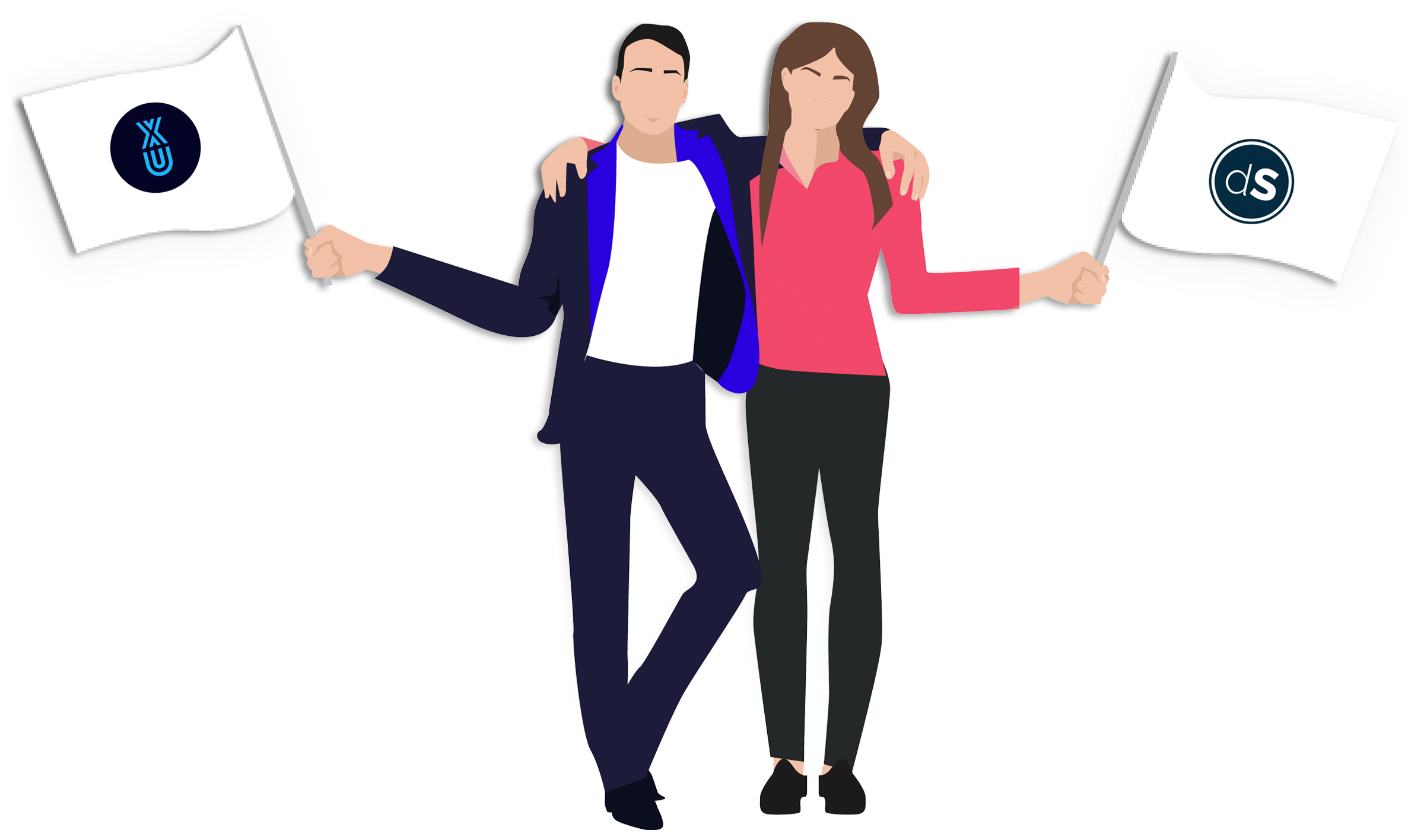 Studying our bachelor's program in Digital Business
means studying for the jobs of the future.
You're in?
This way to your future.
You need more info?
Then just let us know.
You want to get a look behind the scenes?
Then check out our webinars.