6 semesters
Degree
Bachelor of Engineering (B. Eng.), 180 ECTS Credit Points
Main areas of study
Industrial Engineering

Economics/Business Management

Industry 4.0

(

Engineering and Economics Integration, Smart Factory, Manufacturing Automation II, Robotics)

Quantitative

Method

en

and

Skills
Specializations
Specializations 5. and 6. semester:
Smart Manufacturing

Smart Logistics

Software Engineering

Data Engineering

Innovation and Knowledge Management

Start-up Manage

ment
Study Abroad
In the 4th semester
Practice
Intern domestically or internationally, Practical projects, business games, labs, excursions
Language
German/English
Intake
Beginning of October
Accreditation
Central Evaluation and Accreditation Agency (ZeVA)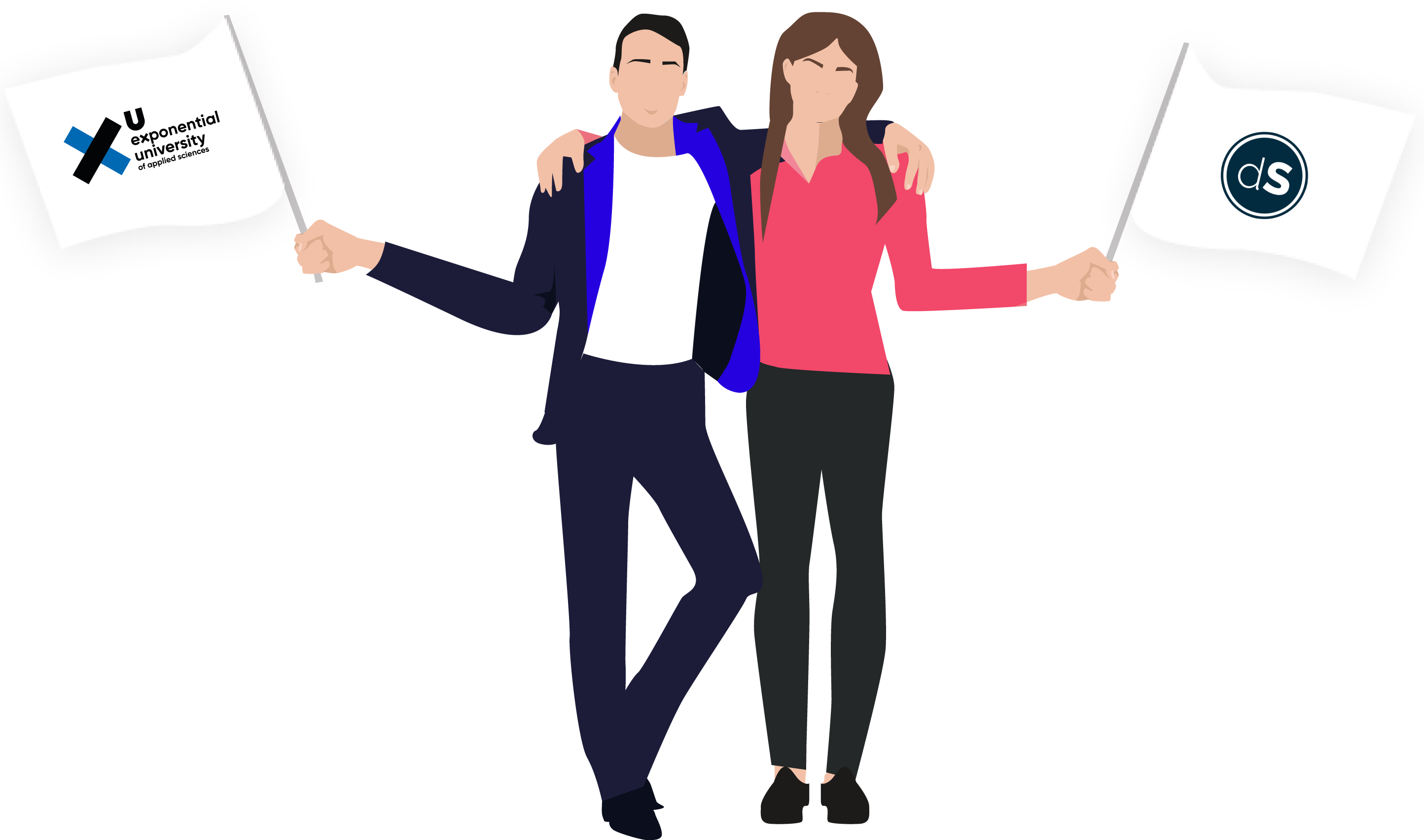 Your studies. Your future. Your decision.
This also applies to your elective subjects. You decide which specialization suits you best. When making your choice, be sure to consider the experience you have gained from jobs, internships and projects and the demands that the job market places on you.
Options include:
Smart Manufacturing
Become an expert in smart manufacturing and unleash the potential it holds for production processes, increased productivity and innovation. You are skilled in 3D printing technologies/systems and know how to assess legal requirements (e.g. copyright, patents, trademarks and design law). Economic and technological aspects form the backbone of your recommendations regarding whether additive methods outperform conventional ones. Modern Cyper Physical Systems (CPS) is your subject: the interaction of mechanical components, software and modern information technology, their functions, components and technologies. In applied modules, you will gain insight on how to use these cross-sectional technologies in the (partly global) interaction of machines and facilities.
Digital Mobility Management
Become a smart logistics specialist and use your expertise to coordinate the key interfaces of companies. Digital transformation along the value chain is your key word. You connect structures, objects, products, partners and customers using information and communication technology. Based on conceptual and technological foundations that you have developed and tested in practice modules, you develop new innovative solutions that increase both the efficiency and the effectiveness of the value chain. In this context, you equally consider data protection and data security as well as legal and social requirements.
Data Engineering
Become a data engineer and translate data into innovation. You integrate conceptual, methodological and technical measures as well as methods into business and innovation processes. This includes, among other things, marketing, sales and product development processes. You are familiar with database structures/management systems. Not only can you assess their commercial and non-commercial application, but you also know how to generate recommendations for their utilization. During practical projects, you will learn everything about data engineering, the project management of data science and the application of data engineering methods, apps and tools.
Software Engineering
Become a software engineer and manage the interaction between hard- and software. You will gain skills in software development and programming languages along with expertise in phases, models and modern methods in the field of software engineering. You use agile methods and are familiar with their use in project management. With Java and C++ you develop programs that allow fast and secure calculation, evaluation and visualization of large amounts of data. During practical modules, you will also use your acquired digital skills in the field of hardware and performance-oriented coding (e.g. in robotics or integrated systems).
Innovation and Knowledge Management
Become an inventor and think about digital transformation and its opportunities ahead. You generate new opportunities for participation and are developing the innovations beyond 4.0. Your focus lies on the importance of innovation management, the forms of innovation and the drivers for innovation success. In practical workshops you will be working on and testing how innovations are mapped out and realized. You will learn why it is crucial for the economy to embed innovation management in corporate targets and strategies including how functions and divisions are linked. You apply innovation methods and techniques (e.g. design thinking, prototyping, sprint) to systematize the development of innovations.
Startup Management
Become an entrepreneur and let your start-up ideas of today turn into the digital innovations of tomorrow. You possess all the digital methods and skills and have expanded your entrepreneurship skills in realistic simulation exercises.
Overview Study Plan
Let's go – your first semesters
In your first semesters, everything will be about most important engineering and economic fundamentals: material science, manufacturing and electrical engineering, business administration and economics, accounting, HR management and organization, marketing and sales.
In applied modules, you will learn to link integration segments based on selected engineering and economics content, to address interdisciplinary challenges of digital transformation and to embed new solutions. These include fields such as digital business models, transaction and production management systems and product and service development as well as production management.
Further focal points with which you will build up your expertise are manufacturing automation, smart factory (e.g. technologies, standards, concepts) and robotics.
You will also develop skills in communication, interaction and team building. You will gain practical experience in modern digital communication and interaction methods and learn how to use them to lead and develop interdisciplinary teams.
If you are a full-time student at XU Exponential University, you will study at one of our international partner universities in the fourth semester. You have the choice at which of our partner universities you would like to spend your semester abroad. You have the choice at which of our partner universities you would like to spend your semester abroad.
Final spurt – your last semesters
You will deepen your acquired digital skills and will select at least two elective subjects. If you want to know more, you may also choose other subjects.

And last but not least – your bachelor thesis
This also applies to your elective subjects. You decide which specialization suits you best. When making your choice, be sure to consider the experience you have gained from jobs, internships and projects and the demands that the job market places on you.
Hello, future!
You successfully completed your bachelor studies in Industry 4.0? What is next?
Depending on which specialization you have chosen, you can take off in the following areas, for example:
Product/Service Development
Production Management
Production Technology
Change Management
Data Management
Consulting
Your bachelor's degree in Industry 4.0 makes you a sought-after candidate for all manufacturing companies that need to change their business models, structures and processes in order to succeed on the market.
This also includes industries that require cross-linked network solutions, new services and novel approaches to the workplace, innovation and communication.
Your job prospects are increasing in both sectors.
As an expert on smart factories, you will use both your interdisciplinary skills and digital expertise to develop business models and processes as well as smart products and services.
In addition, Industry 4.0 experts are offered a wide range of job opportunities in core, cross-functional divisions of companies. These include manufacturing management (planning, control, introduction and adaptation), project and change management and automation.
Studying our bachelor's program in Industry 4.0
means studying for the professions with a future.
You're in?
This way to your future.
You need more info?
Just let us know
For all pioneers, who think and act beyond 4.0.
Are you asking yourself how industry can successfully make the leap into the fourth industrial revolution? And which new digital approaches will enable the industry to successfully keep up?
Do you wonder how the integration of industrial manufacturing with modern information and communication technologies works? Which organizational structures and digital processes are needed in today's fast-paced innovation and development cycles?
Do you ask yourself, what exactly is a smart factory? And how much potential is there in smart products and smart services? How are they developed and marketed? 
Do you wonder which business models, products and services our digital future will need? What does this mean for product development and manufacturing? And what will the jobs of the future look like? How will tasks be set? Are you wondering how people will stay in the focus?
How can the future of employment be guaranteed if more and more processes are standardized and automated as machines interact with each other and organize themselves? What methods can be applied to prepare employees and management for the new demands?
Not only does our Industry 4.0 bachelor's program provide pioneers with the answers to your questions, but also enables you to establish the interdisciplinary skills and expertise that you will need to ensure the long-term success of businesses and to secure the future of work.